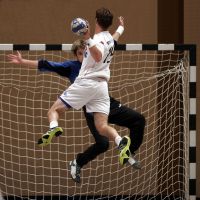 Macedonian champion Vardar is the new ruler of handball Europe. The Skopje team won the final match of the Cologne Champions League against French Pari Saint-Germain with 24:23 and for the first time won the most valuable honor. So the trophy remained in Eastern Europe, after last year the Poles of Vive (Kielce) became the first.
Vardar is the sixth team of the European Peak in the last six years, and Macedonia is only the third country with titles for both men and ladies after Slovenia and Spain. For the first time in many years, Germany had no representative among the best.
Seconds before the end Vardar was leading, but Paris Saint-Germain's star team managed to equalize through Daniel Narsis. Macedonian Senior Coach Raul Gonzalez immediately put the green break mark on the bench. This is the way the clock is stopped in the handball.
Gonzalez gave instructions for a combination with the right wing Ivan Čupic, pulling to the left the French defense, which was with a lesser person. The leftist received the ball two seconds before the end and shot Thierry Omeyer the best goalkeeper in the world. Chupic last year was in the team of Vive (Kielce), who was just as unexpectedly a champion.
Russian Timur Tibirov scored 6 goals for the winners, and handball legend Nicolas Karabatich was also the top scorer with 6 goals for the French team. The team of Vardar are the names of the Olympic champion, the Danish Mikel Hansen. the Spaniard of Russian-Tajik descent Duyqiyev and the Catalan Kaneyas Rexach. Only one Macedonian - Stoyanche Stoilov, who played the center before the winning goal, took part in the game.
In the semi-final on Saturday, Vardar beat 26:25 the most titled team in the handball world of Barcelona. All of the specialists previously predicted a match for the title Barcelona - Pari Saint-Germain. Something like a rematch to the celebrated eight-finals in the football Champions League.
In the match for the third place, the Hungarian Vesprim redeemed for the lost final in 2015 from Barcelona and won with 34:40.
The French Grand Pari Saint-Germain has suffered another success against the immense ambitions of its owners. After the loss of Barcelona in football and the lost title in the French League1, the rich team lost the women's Champions League football with penalties from the Olympic Lyon.
Blog for handball predictions