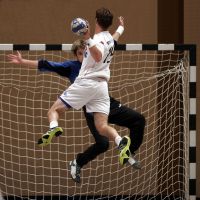 Macedonia and Iceland became the last teams to make their place among the best. Both teams had to win their last matches and they did it.
Barcelona's two stars - goalkeeper Borko Ristovski and best world scorer Kiril Lazarov - brought home Macedonia's victory against the Czech Republic with 33:20 (16:10). "Handball Legend" Lazarov scored 11 goals. Kiro scored a total of 59 in the Euro 2018 qualifiers and won the top scorer. The Czechs had nothing to play because they had previously qualified for the finals.
The Icelanders were on the verge of elimination, something that seems unthinkable for the former Olympics. They managed to qualify as the best third team. The Vikings played at home against Ukraine, a team that had defeated them at home.
The Icelanders played in their optimal line-up with many veterans. They allowed for a 10-10 draw, but then they forced their quick attacking style and made a convincing 34:26 (18:13). Their best handball player Gudjon Valour Sigurdsson scored eight goals and was the best in the match.
Here are all 16 teams to compete for the title of Europe: Croatia, France, Germany, Spain, Denmark, Hungary, Macedonia, Belarus, Serbia, Austria, Sweden, Slovenia, Montenegro, Norway, the Czech Republic and Iceland.
It is noteworthy the lack of Russia, which dropped after a dramatic draw in the last home game with Montenegro - 24:24.
Blog for handball predictions